A German Life, The Bridge Theatre, All performances 7.30pm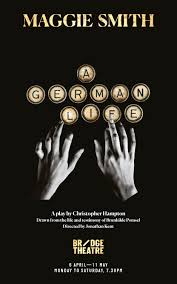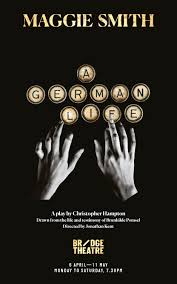 sold out
A German Life, The Bridge Theatre, All performances 7.30pm
A play by Christopher Hampton,
drawn from the life and testimony of Brunhilde Pomsel
Directed by Jonathan Kent
Runs from 6 April - 11 May 2019 (no Sunday or matinee shows)
SEATS WILL BE ALLOCATED IN A GROUP. YOU WILL BE ALLOCATED SEATS TOGETHER WHERE POSSIBLE (and friendly Culture Club members will always swap seats to help out if needed).
—— Premium £105
—— Band A £75
—- Band B £60
—- Band C £45
A group trip will be organised for Friday 10th May (subject to availability) email or message Sian if you are interested in joining. sian.gwilliam@me.com or 07958 385 929.
Your ticket is NOT discounted for a group rate. Prices are for the full price + a small fee to cover Culture Club admin and credit card transaction fees.
ABOUT
"I had no idea what was going on. Or very little. No more than most people. So you can't make me feel guilty."
Brunhilde Pomsel's life spanned the twentieth century. She struggled to make ends meet as a secretary in Berlin during the 1930s, her many employers including a Jewish insurance broker, the German Broadcasting Corporation and, eventually, Joseph Goebbels. Christopher Hampton's play is based on the testimony she gave when she finally broke her silence to a group of Austrian filmmakers, shortly before she died in 2016.
Maggie Smith, alone on stage, plays Brunhilde Pomsel.
VENUE INFORMATION
THE BRIDGE
3 Potters Fields Park
London, SE1 2SG
FAQ information from the Theatre HERE
Contact sian.gwilliam@me.com with any questions about your booking, or contact your group leader or school PTA contact.
Please check the theatre website for details of the cast playing at the time of booking for your chosen dates. If parents are sending children, they must check that the show is suitable for their child, and read the guidelines from the Producers. The school, nor My Culture Club can take any responsibility for children travelling to or during the event.
Get directions